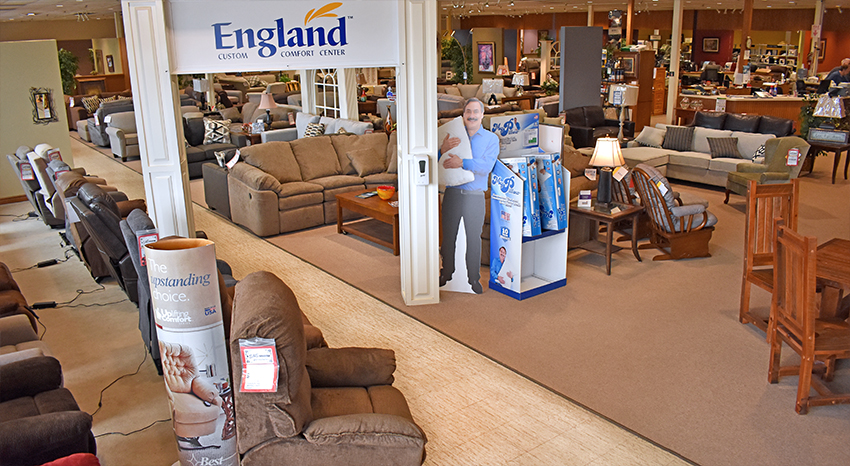 E & E Furniture, LLC
About Us

E & E Furniture, LLC has been in business for over 50 years, and our staff is very dedicated in helping you find the right furniture to match your taste, décor & needs. We invite you to stop by and take a look around and see the great selection that we have in-stock. Here at our Upper Peninsula furniture store, you won't have to worry about the daunting task of putting your own furniture together — like so many have experienced with mass produced furniture through online outlets. Our furniture is no hassle, ready to enjoy, and we deliver. "We are your GOOD BETTER BEST store, where — if you see it on the floor, you can take it out the door!"

We look forward to serving the area for many more years and strive to be your first choice in furnishings in the Upper Peninsula. Visit our showroom to see our huge selection of furniture for all your home furnishing needs. Our caring staff has the experience and knowledge to help you select the best mattresses, sectionals, sofas, chairs, fabrics, dining sets, and accessories to suit your individual needs.

We also invite you to check out our "touch screen kiosk" where you can browse all of our trusted brands, customize upholstery, or digitally build your living room or bedroom.

"Service was awesome. Great product, good price. Staff was great!" — Chris C. 5 Stars, Google Reviews

"Superb service & knowledgeable. Delivered in a timely manner" — Jeannette B. 5 Stars, Google Reviews

"Great furniture. Great selection. Excellent and professional service." — Brandon E. 5 Stars, Facebook Reviews

"We have made multiple purchases from E & E Furniture throughout the years. The owner and friendly staff go above and beyond to take care of us and make sure that we find exactly what we are looking for. I could not be happier with all of our wonderful purchases & highly recommend their store for quality furniture!" — Gina H. 5 Stars, Google Reviews